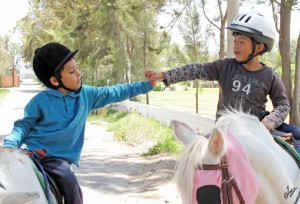 For more than 5 years, my wife and I have traveled to Arequipa, Peru in the winter. While we are down there we meet up with some of the social agencies and help out where we can.  Marcia is a Social Work instructor, and she arranged to take some of her students down for some work experience – and to see first hand what poverty can be like outside of Canada.
In the past three years, Marcia and the students have created a non-profit society and promoted some fundraising activities in Canada – in Edmonton, to raise funds for some of the agencies we visit in Peru. Next week on November 16th, we will join a community of local musicians – many of them from South America, to present a night of Latin music and a silent auction. The funds raised will be delivered to several agencies in Peru, when we head down again after Christmas.  If you are interested in attending the Latin Music night you learn more, and buy tickets here: Latin Music Night. If you are interested in donating, but cannot make it out to the Latin Music night, you can click the link below to make a donation.
The agencies we support are
Crines: a horse riding theraputic centre for disabled children.
Corazon de Jesus: a school for very poor children, many from single family (mother only) parents.
Instituto de Rehabiltaction Integral Para Discapacitados (I.R.I.D.) a home center for handicapped children who were abandoned by their parents;
You can view photos from our many visits to these organizations, here: SUPC photos.  And you can find more information about the organization's history and accomplishments on the website: Standing Up for Peruvian Children.
While we are in Arequipa, we visit each of these organizations to learn more about their situation and their needs – and then decide how to allocate the funds raised.  There is no overhead in SUPC – we actually spend quite a bit of our own money as well.
You can support SUPC, and our efforts in Peru, by buying tickets to the Latin Music Night, by purchasing items at the Silent Auction, or by making a donation.

Thanks for your support to our communities in Edmonton, working to enhance the health of communities in Peru.